Certified 100% Carbon Neutral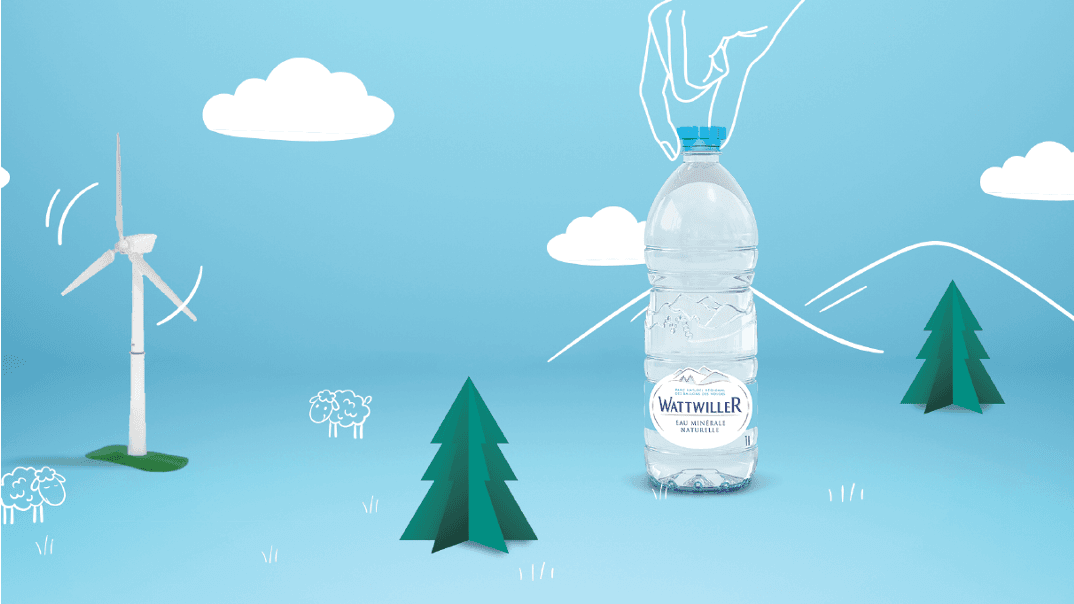 Milestone Achievement for Wattwiller
As the first Spadel brand – and the first French SME in the mineral water sector – to achieve full carbon neutrality, Wattwiller reached an important milestone this June. Because it's not just the company's activities that are now officially CO2 neutral, but the product itself too. In other words, when you buy a bottle of Wattwiller you don't contribute a single microgram to global warming.
Carbon Neutral Certification
"Being awarded with the label 'carbon neutral' shows how seriously Wattwiller takes its climate responsibility, the third party certified label is a guarantee for credible climate action" says Antoine Geerinckx, Founder and CEO of CO2logic. "Many companies are already calculating their carbon footprints and looking for ways to reduce them, but achieving scope three takes things to the next level. It means placing a price on the emissions that are not under your direct control and offsetting the remaining CO2 emissions through international carbon compensation programmes. Instead of passing on responsibility to consumers and future generations, the organisation is choosing to take its full climate responsibility and pay a voluntary carbon tax."
It's thanks to a comprehensive analysis across the entire product lifecycle that Wattwiller has been able to identify the aspects that have allowed them to significantly reduce their carbon footprint. Already carbon neutral since 2016 for the activity of its bottling and administrative sites (scope 1 & 2), Wattwiller was aiming for complete carbon neutrality by 2020 (scope 3). This has now been achieved, making Wattwiller the first French SME in the mineral water market to be fully carbon neutral.
Road to Certification
From reducing the plastic weight of bottles by 20% between 1993 and 2015, to further lightweighting initiatives in 2019, the focus on packaging has been crucial as it accounts for approximately 55% of the organisation's CO2 emissions. Innovations such as the use of 100% recycled plastic for multipack film have also allowed the company to save some 200 tonnes of CO2. Equally, the use of 100% green electricity and reduction of energy consumption have played an important role in reducing Wattwiller's carbon footprint.
Even so, these reduction initiatives do not bring emissions down to zero yet. To help offset the remaining emissions, Spadel and Wattwiller have created the Water for Climate programme. "The carbon offset programme we have developed for Spadel is exemplary of strong corporate social responsibility," Antoine continues. "Through the rehabilitation of 41 boreholes near Kigali in Rwanda, thousands of people are given access to clean water. Not only does this contribute to the UN's Sustainable Development Goals (SDGs) targets for health (SDG 3: Good Health & Wellbeing), it also prevents deforestation (SDG 15: Life on Land) and saves thousands of tonnes of carbon (SDG 13: Climate Action) as people no longer need to boil water over wood fires to purify it."
Mission Accomplished?
"Our mission doesn't end there. We will continue our efforts to contribute to a better life and a better, more sustainable world. We are among the first in our sector to have Science Based Targets on carbon reduction. The Spadel Group's objective is to reach -42% in 2030 and zero absolute GHG emissions by 2050," adds Valérie Siegler, Managing Director Wattwiller.
"It's essential to the future of our planet that companies everywhere, including in the EU, take responsibility for their emissions if we want to keep global warming below 1,5°C. Responsibility and opportunity do not stop at national borders. The emissions you emit here can be at the other side of the world in a matter of weeks. Reducing emissions by a tonne in Europe, China, America or Africa has exactly the same impact on climate. But your financial investment will have a greater impact with a compensation programme in the developing world," says Antoine.
"This commitment to creating a better, more sustainable world is also why we are one of the first French SMEs to have been accredited 'Entrepreneurs + Engagés' by Ecocert Environnement, as well as being named a 'Great Place to Work'. Because not only is the wellbeing of our planet a major driving force, the wellbeing and satisfaction of our employees is a daily priority too," concludes Valérie.