Devin decreases use of plastic by 9.4% on average per bottle in 2020
At Devin, we're proud to share the news that our continuous efforts towards creating more sustainable packaging are paying off.  We've been lightweighting the preforms of our famous bottles since 2017 and this is no different in 2020. This year we will be significantly reducing the amount of PET used for our 0,5l and 1,5l bottles. We've been making regular investments in operations to ensure we can reduce our plastic consumption, while safeguarding the quality of the water inside.  Of course the bottles remain fully recyclable.
Over the last four years we have managed to decrease PET in our HoReCa Crystal PET 0,75l bottle by 15.6%.  This translates to an estimated saving of 21 tonnes of plastic per year.  For the 0,33l mineral water bottle a lightweighting of 9.1% translates into nearly 5,5 tonnes less plastic. This year, the amount of PET in our 0,5l and 1,5l bottles will be reduced by 10.2% and 8.4% respectively. Altogether this amounts to nearly 162,000kg less PET used in the production of these SKUs and an average reduction of 9.4% across our entire portfolio.
"For us, lowering our PET consumption is a journey that started long ago and won't stop anytime soon. In 2008 we lightweighted our bottles by on an average 15% and in 2010 by another 5%. This has meant a significant reduction and a saving of thousands of tonnes of PET. A few years back, Devin JSC was the first company in Southeast Europe to implement the 29/25 neck standard and to replace the traditional caps of 0,33, 0,5 and 1,5 bottles with caps of reduced size and height. Lowering our  environmental footprint in this way was a major innovation at the time. Today we continue to work on PET reduction across our entire portfolio and we are not stopping there. Delivering the purest high-quality water from the Devin region to all Bulgarian consumers continues to be challenging but we are dedicating significant efforts on an ongoing basis to maintain the highest operational European and Bulgarian standards and be a source of change," said Mihail Angelov, Innovations and Packaging Manager in Devin.
Devin JSC, a full member company of Spadel group, focuses its efforts not only in one direction, but across the entire process. On one hand we optimise production by using less resources, and on the other we support the collection and processing of waste as a founding member of Ecopack.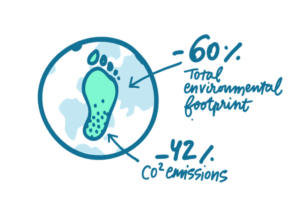 "To reduce our footprint is a commitment we take seriously at Devin. We are deploying the highest standards in optimising PET consumption and are working with various stakeholders to raise awareness of the need for sorting and intelligent waste management that encourages the reuse of materials," said Petya Manastirska, Sustainability and Quality Manager in Devin.
Devin is committed to reducing its environmental footprint even further while continuing to encourage healthy hydration and active lifestyle for millions of Bulgarian consumers. We look forward to announcing a series of innovations and investments in the coming months.