New at Carrefour: BRU 1 litre Returnable Glass Bottle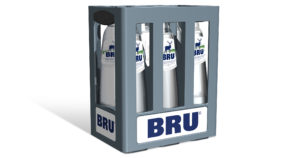 With leading supermarket chain Carrefour committing to concrete actions for better food, they are the perfect partner for the launch of our BRU 1 litre Returnable Glass Bottle.  Consumers have been requesting an alternative to PET bottles and BRU® is proud to introduce this typical out-of-home format.
Thanks to this initiative consumers are able to choose which type of bottle best meets their needs.  Returnable Glass Bottles carry a small deposit which is paid back when they are returned in store.  Bottles are then shipped back to Stoumont for sterilisation and refilling.  This Deposit Return Scheme helps reduce the need for single use plastics, an important step on the road to a circular economy.
Through this scheme we look forward to learning more about our end consumers personal preferences and buying behaviours.  Valuable information that will help us as we work towards creating a healthier planet and more sustainable future through our Source of Change® packaging commitments.