Spadel awarded first Lean & Green Star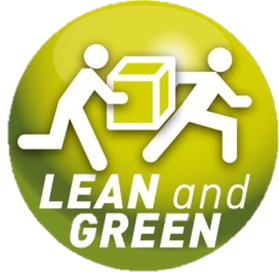 The Dutch initiative Lean & Green was first introduced in Flanders in 2012. It stimulates transport and logistics companies to improve energy efficiency and helps them reduce their carbon footprint. Group Planning and Optimisation Manager Arnaud Popovitch is proud to share that Spadel Benelux has been officially awarded its first Star under the Lean & Green programme.
Why is being awarded the first Star under the Lean & Green label so important to Spadel?
"I think we can all agree that the matter of carbon emissions is growing increasingly urgent.  It is the eleventh hour for our planet and we need to lead by example. To us, reducing our carbon footprint is not a nicety, but a necessity.  The Lean & Green programme is a great way of showing our customers and partners we take our responsibility seriously."
Is the Lean & Green label just another clever marketing trick?   
"From the first workshop to being accepted into the Lean & Green programme takes between four and eight months.  During this time you create and present a plan that details how you aim to achieve a CO2 emission reduction of at least 20%. If the plan is accepted, you have five years time to turn this plan into reality."
"So although we have just been awarded our first Star, we have been working towards achieving this for years.  It is an intensive programme and we worked hard to be accepted into it.  At the end of 2018 we were audited by an independent organisation and are incredibly proud to say that we have surpassed our target.  In fact, we achieved a total reduction of 22,9%, compared to our 2012 baseline."
How did you achieve this 22,9% reduction in CO2?
"We identified eleven separate initiatives that would help us achieve our objective.  This included sourcing our materials closer to home, introducing eco-combi trucks and increasing truck loads.  These are important steps forward and show we are proactive about becoming a more sustainable actor in the food & beverages industry. We might not be a global brand, but we want to be a leader in our local markets.  Consumers are eager to enjoy more local and sustainable products, and logistics plays an important role here."
Our 11 initiatives:
Reduce transport distances of material supply

Reduce fuel consumption of onsite loading activities through robots

Reduce fuel consumption of onsite loading activities through electric clarcks

Eco-combi light & eco-combi

Trucks driving on Liquefied Natural Gas (LNG)

Increase full truck loads

Engage other transport companies to reduce their direct consumption

Preferential cooperation with Lean and Green transport companies

Eco-efficient lighting and energy at onsite storage

Eco-efficient lighting and energy at distribution center (DCNL)

Other reduction areas under investigation
What do you see as the next step?
"Now that we have reached our first rung on the Lean & Green ladder, it is time to sit around the table with all our stakeholders.  Personally, I think we are going to see some important changes in logistics in the coming years.  Today, we see full trucks deliver products to distribution centres, who then distribute the product to their own stores from where customers buy them.  We need to think internally about what we need to do to go even further and reinvent the logistical process. It's a long journey, but we have made a great start."
Is it not easier to just look at alternative transport solutions?
"We truly see our suppliers as our business partners with whom we can collaborate on finding new and better solutions.  It's up to us to balance the risk between ourselves and our suppliers. We can't place all the responsibility on the shoulders of our logistics partners.  Both sides must put in the effort if we want to create a win-win situation on a financial and a sustainable level."
"Transport and logistics companies are under a huge amount of pressure these days.  They get a half hour window to collect the goods from the warehouse, and another half hour window to deliver them on the other end.  Before or after this time range, you won't be allowed onto the lot to (un)load, so it's an important constraint for the haulers.  Traffic jams, low emissions zones; these all impact profitability. If we want to move forward and work hand in hand with our logistics partners, we need to understand their concerns.  We must talk openly so we can support them in creating a more sustainable transport system."
Have all Spadel brands been awarded this Lean & Green Star?
"The Lean & Green programme currently covers the Benelux, which means SPA and BRU, but not yet the rest of Europe.  There are similar initiatives in other countries and we're investigating how we can translate some of the improvements that led to our first Lean & Green Star into a global approach for our brands."
Are there any specific projects or actions that you are especially proud of?
"Each of our eleven initiatives to reduce CO2 emissions in our logistical process are noteworthy.  Initiatives such as reducing the distance between ourselves and our suppliers for a more local approach are hugely impactful.  This is mostly with regards to PET, but also the fruits extracts we use for our flavoured waters.  Secondly I have to mention our laser guided vehicles (LGV) and smartstore in Spa, which have allowed us to replace our forklifts and tension tools.  Going digital has helped us reduce our carbon footprint by almost 7%."
"And of course I can't forget about the eco-combi programme.  Although it only achieves a 0,2% reduction target, it was developed in close collaboration with our supplier and there were some difficulties to overcome.  It can sometimes be challenging working across the cultural and language borders that exist between Wallonia and Flanders, but we did it.  So perhaps I am most proud of the way we have collaborated with one another.  We've been able to achieve this Star thanks to the hard work of many individuals."
So what's next?
"We're only at the halfway point: Source of Change® is our commitment to achieve an overall CO2 reduction of 42% by 2030.  It's up to us to show that we can succeed and meet this goal, so we are going to continue challenging ourselves."